Tasman 35TM has unparalleled structural performance, superior weather protection, and superb practical functionality. These make Tasman 35TM work well with both traditional and modern aesthetics. All products in the range allow both single and double glazing with up to 24mm IGU thickness.
What you can expect 

Modern and sleek flat-faced frame profiles are available across all frame types, with awning window frames available in flat and traditional stepped frames. Flat faced frames seamlessly blend with our Pacific41TM system where required. Doors for Tasman 35TM can be up to 2.4 m, sliding panels can weigh a maximum of 150kg, and hinged panels can weigh up to 60kg. The range allows for wide glass openings, providing you impressive and uninterrupted views and access.

Want a combination?

Tasman 35TM works with almost all window and door combinations, giving you complete freedom with build and design. The range is suitable across multiple market sectors: Standard residential mid-level architectural homes, multi-residential, light commercial, exposed architectural homes as well as additions and alterations (2.4m height is recommended).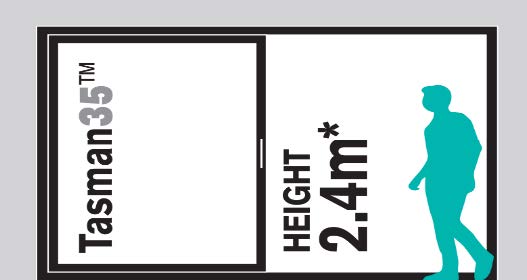 Pressure Fit bead

Faster close in – improved productivity in factory & onsite glazing

High performance santoprene foam-filled back seal produces clean glazing lines, with less visible black seal margins, matching the inner appearance of the joinery.

High-end finish for standard joinery offering.

Improved performance that offers peace of mind.